Seca 654 Digital flat scale with column ID-Display™
Seca 654 Digital flat scale with column ID-Display™
800 lb x 0.1 lb/ 360 kg x 50 g
Large break-resistant and hygienic glass platform
Touchscreen display
Displays User and Patient identification for security
LED footprints illuminate correct standing position for accurate height measurement
Scale Up versions include handrail, or ultrasonic height measurement or both handrail and ultrasonic height
Free Ground shipping in contiguous U.S. and Canada
The seca 654 Digital flat scale with column ID-Display™ offers a high capacity of up to 800 lbs x 0.1 lb (360 kg x 50 g) making it perfect for all patient types. The large platform is made of tested seca Bearclaw Glass® for absolute breakage resistance and perfect hygiene. Glass surface is easy to clean and disinfect (more hygienic than plastic).
The touchscreen display shows name or identification number (ID) of users and patients for increased safety.  The scale is EMR-validated: transmit measured data directly to any Electronic Medical Record (EMR) system.  Contact us for seca integration solutions.  Data transmission is controlled by the touchscreen display.
The seca 654 scale is available in various "Scale Up" versions:  The scale with seca 455 handrail or the scale with seca 257 ultrasonic height measurement rod or the scale with both handrail and ultrasonic height rod.  Choose the Scale Up version that is best for your needs.
FREE GROUND SHIPPING in the contiguous U.S. and Canada is available at checkout. (Free shipping to Canada ONLY on Fridays. PAID shipping applies to Alaska, Hawaii, and all other off-shore insular areas, such as American Samoa, Guam, the Northern Mariana Islands, Puerto Rico, and the U.S. Virgin Islands, etc.)
Capacity: 800 lbs x 0.1 lbs / 360 kg x 50 g
Functions: Display of user and patient name or ID, customizable shortcut buttons, TARE, Pre-TARE, mother+child function, HOLD, Auto-HOLD, Auto-BMI, CLEAR, Auto-CLEAR, lbs/kg switch-over, inch/cm switch-over, damping, Wi-Fi, Ethernet
The display shows names or IDs of users and patients
Touchscreen display-controlled data transfer
Voice response for patient guidance aids personnel
Rapid measurement process within seconds thanks to the innovative ultrasound technology
Elegant design featuring extreme robustness thanks to a steel handrail directly anchored to the cast iron base
Large platform made of seca Bearclaw Glass® virtually break-resistant glass for extreme durability and hygiene
Platform width 23.6 inch / 60 cm
Platform height 2.8 inch / 7 cm
Platform depth 22.6 inch / 57.4 cm
Limited 2-year manufacturer's warranty
Related Products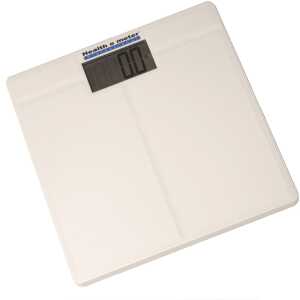 Sale
397 lb x 0.2 lb / 180 kg x 0.1 kg
Lightweight, portable
Low profile platform
Large 1 ½" LCD display
Battery included
5-second weight Hold
ADD a Carry Case from the ACCESSORIES Tab